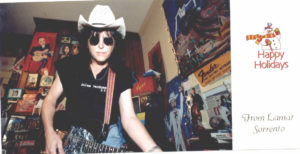 <<<<<<<<this is how my apartment looked ..back in the day….
damn,,i always forget to update this page.its April 2021  now…ive done a lot since the last time i updated this lot page..haha,…not really…i'm a lazy jerk..
My hair is really long now due to covid closings..
what is marriage..?
marriage is buying a house with someone you hate.
..!…i think the celebrity list is also  on another page …but i bet nobody hardly reads this page anyway…..so  its ok….if you do read it please tell me….it would ease my case of the vapors…
ok..advice..to anyone going to be an artist…..painter, writer, sculptor.  songwriter, whatever field of the arts….
if you can deal with this one tip,  then you might make it…
my tip….everything you finish is not going to be great, just because you finished it…dont expect a  trophy for everything you do..
everything you do is only great to your mother,..
in the real word, a whole lot of what you will produce will emit a foul odor…. until….you correct it….you entirely re-do it….or you just throw it away in disgust….or in my case, paint over it..
sometimes just a small correction works wonders…that is why you should not share your work with others until you are proud of it..and have tried to look at it objectively…
if you are continually proud of your work and everybody else does not like it, then you might well be in the wrong field….its no sin to quit and try something else..
time will let you know,…your mother will not….
nature is not kind to the ignorant…
if you can create something and then let it sit for a day or two….then come back to it….look at it critically….if it sucks , dont cry….you are probably on the right track, just figure out how to make it better…once in a great while, greatness just happens quickly and effortlessly, these are the times you will live for…be excited as hell when it happens ,  but dont expect it every day…or ever again…..sometimes greatness just happens to catch you unawares …….sometimes it is a semi-regular visitor,,,
————————————————
as a rule.,,..i am repulsed by most artist's ABOUT ME page,,.,..they usually ramble on and on about how they studied art here or there and how they are SO inspired by this or that and how passionate they are etc etc…(urp).,.,..one day about 20 years ago, i just started painting on a whim and it has turned into a 20 year obsession,,,and i still am not sure what i am doing..
once i did an art show  with HOWARD FINSTER  in OXFORD, MISISSIPPI,,,He was a big legend,,,,but he was not all about Me..he was very cool…at the opening recpetion, he brought a banjo and sat and played it…and we ate pizza and he flirted with girls,,,i thought a lot of him..,.thats what art is about to me….you paint it..you show it.,,and dont worry too much  if they like it or not…if you paint it and you like it, someone else will too..,unless you are really bizarre…,,…but you hope they buy something…you would be surprised how many people come to your art openings just for the free wine and cheese…
i don't know anything about art, except it is incredibly hard….every time i sit down to paint something,  i just pray that it will come out ok…. ..i don't have an artist's mission statement…i like to play guitar and to paint…and i like a pint of Foster's lager…i am not complex…
most of the time people want to know how much money  a painting will cost them to order…..well, i will tell you…most of the time i paint on 24 x 24 thin wood…fiberboard or whatever..i can use a canvas also….your preference… and i charge from 100 to 200 dollars..depending on how hard it is…just drop me a line or call me.,,,,i'm friendly…..sometimes i give them away…sometimes i trade them for beer and cigarettes,,,..
some people are all impressed by celebrity…so i included my old partial celebrity client list…i've forgotten a lot that arent on there..100 dollars from you isnt any different than 100 dollars from eric clapton……
i have been in all kinds of magazines and newspapers….but ..snore…who cares…..?..
..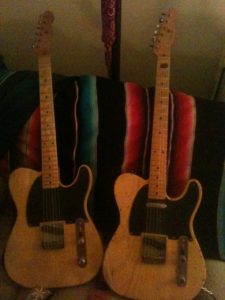 i dont have any of these guitars,anymore….i have a bunch of different ones…which i will share soon……..now that i know how to add stuff to this page…!!
this here thing below  is from from my favourite author…i have read ALL HIS BOOKS..
"There is but one world and everything that is imaginable is necessary to it. For this world also which seems to us a thing of stone and flower and blood is not a thing at all but is a tale. And all in it is a tale and each tale the sum of all lesser tales and yet these are also the selfsame tale and contain as well all else within them. So everything is necessary. Every least thing. This is the hard lesson. Nothing can be dispensed with. Nothing despised. Because the seams are hid from us, you see. The joinery. The way in which the world is made. We have no way to know what could be taken away. What omitted. We have no way to tell what might stand and what might fall. And those seams that are hid from us are of course in the tale itself and the tale has no abode or place of being  except in the telling only and there it lives and makes its home and therefore we can never be done with the telling. Of the telling there is no end. And . . . in whatever . . . place by whatever . . . name or by no name at all . . . all tales are one. Rightly heard all tales are one."
―
Cormac McCarthy
,
The Crossing\
but then i sometimes think Charles Portis is my favourite…!!!!!!!!!!!