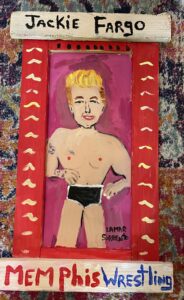 I've got about 35 or 40 framed new 11 x 14 paintings…. If you need one , you can come by my place and look… most of them are 150 dollars…they are all good…I've got everybody from Jerry Garcia to the late Queen Elizabeth.  ..
announcement… I'm going to quit using PayPal..soon..
To sell you a painting , I will be taking credit cards over the phone on Square , which I have been using for years…
to get a painting that I have listed , you will have to call me on the phone and we can do the credit card thing and then I will send painting to you …easy enough…
im ditching Paypal and Venmo and EBay
I hope this doesn't make things difficult for us to continue  business …it will be the way it was , way back Before paypal…
im only  going to post one painting for sale at a time ..
Thanks,
lamar